Winter Meeting Course Information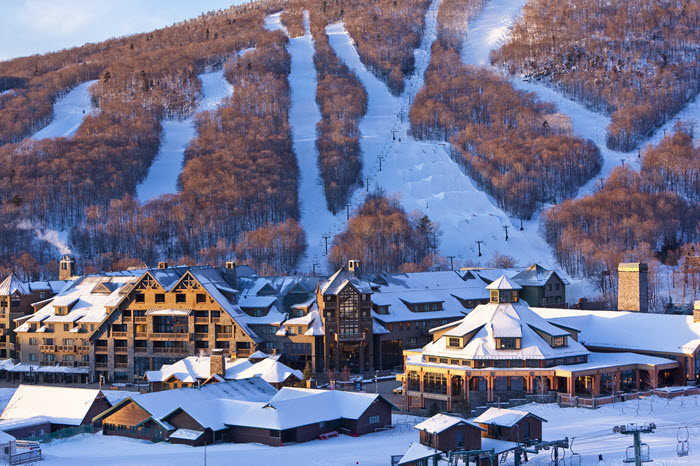 NHMI's Orthopedic Winter Meeting brings sub-specialist expertise to orthopedic providers in this AMA PRA Category 1 Credit™ educational opportunity. The 19th annual meeting will be held January 25-26, 2019, at Spruce Peak (formerly Stowe Mountain Lodge) in Stowe, VT. Spruce Peak offers a state of the art conference center in a beautiful setting.
Looking for Winter Meeting handouts? Email Sandy sandy@nhmi.net for the direct access URL.
Hotel accommodations INCLUDE Friday and Saturday nights. Course handouts will be electronic. Please plan to bring a device (wifi and power provided) or print handouts if you would like to refer to them during the meeting.
19th Winter Orthopaedic Meeting Brochure
Click Here for Stowe Mountain Ski Rates & Information
MEETING SCHEDULE*
Friday Afternoon, January 25

(Program 1:00-6:45, Reception 6:45-8:00)

Time

Speaker

Topic

1:00-1:15

James Vailas

Welcome

1:15-1:45

Kevin Plancher

Large/Massive Rotator Cuff Tears: New Concepts, Difficult Problems, Making Patients Better

1:45-2:15

Kevin Plancher

Opioid Use and Abuse Following Arthroscopic Procedures: Is this part of the National crisis?

2:15-2:50

Elizabeth Martin

Achilles Injuries: Should I Operate?

2:50-3:05

Break

Break

3:05-3:40

Edward Sirlin

Pediatric Fractures: Calm the Surgeon, Fix the Child, Please the Parents (Bonus: When to Panic!)

3:40-4:15

Dennis Kramer

ACL Repair and the BEAR trial: Early Results

4:15-4:50

Jason Donnelly

The Superion Device for Spinal Stenosis with Neurogenic Claudication

4:50-5:05

Break

Break

5:05-5:40

Young-Jo Kim

Borderline Dysplasia - When is PAO Indicated?

5:40-6:15

Thomas Gill

Evaluation and Management of PCL Injuries - A Practical Approach

6:15-6:45

Dennis Kramer

Treatment of ACL Tears in Children and Adolescents

6:45-8:00

Reception

Reception

Saturday Morning, January 26

(Breakfast 6:45-7:15, Program 7:15-10:30)

6:45-7:15

Breakfast

Breakfast

7:15-7:55

Thomas Gill

A Practical Approach to Articular Cartilage Injuries in the Knee

7:55-8:30

Young-Jo Kim

Joint Preservation Surgery in Adults vs THR - Patient Selection Criteria

8:30-9:05

Jason Donnelly

Orthopedic Applications of Spinal Cord Stimulation with a Special Focus on Dorsal Root Ganglion Stimulation

9:05-9:20

Break

Break

9:20-9:55

Edward Sirlin

Osteomyelitis: Update on Treatment Options, How to Avoid Mistakes

9:55-10:30

Elizabeth Martin

Foot and Ankle Emergencies
*We reserve the right to make changes to the meeting faculty and/or schedule.