Safe Sports Social Awards

Safe Sports Star of the Year: This award recognizes a person not associated with Safe Sports Network who through words/actions demonstrates his/her commitment to ensuring youth sports safety.
Click Here to see Primary Bank Perseverance Scholarship Recipients.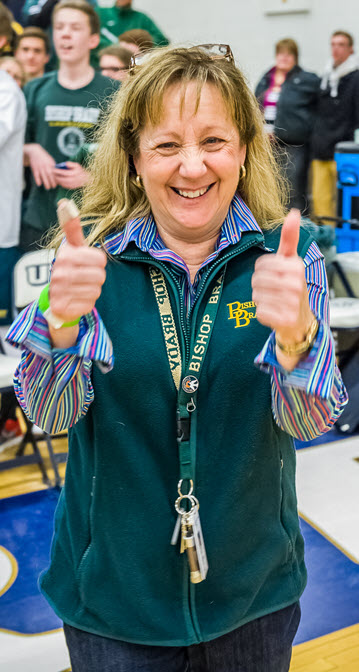 2020 Safe Sports Social Star of the Year Winner
Andrea Isaak Elliot
Andrea Isaak Elliot is a Manchester native who completed undergraduate studies at the University of New Hampshire, then completed advanced degrees at Notre Dame College and Plymouth State University. She has been an educator for over 35 years.
She was also involved in coaching for many years as her multisport-athlete children played through youth, high school and collegiate sports. She has never missed an opportunity to be sure her kids - her own and her students - were as safe as possible. That has continued into her current role as the principal of Bishop Brady High School. Upon her arrival at Bishop Brady several years ago, she was instrumental in bringing the first-ever athletic trainer onto campus and securing national recognition as an NATA Safe Sports School in 2015.
Andrea is so concerned about sports safety, that she volunteers as a Member of the Sports Medicine Committee of the New Hampshire Interscholastic Athletic Association and as the Public Member of the New Hampshire Athletic Training Governing Board.
Andrea's commitment to youth sports safety is extraordinary and she is most deserving of this recognition.
| Year | Winner |
| --- | --- |
| 2019 | Scott Evans |
| 2018 | Sue Thomas |
| 2017 | Matthew Benson & William Demers Co-Stars |
| 2016 | Steve Coburn |
| 2015 | Christopher Couture, MD |
| 2014 | Arthur Maerlender, PhD |

Primary Bank Perseverance Scholarship: This award is given to a young athlete who suffers a season-or career-ending injury but stays involved with his or her team despite the injury.
| Year | Winner |
| --- | --- |
| 2019 | Meredith Basta, Bishop Guertin High School Class of 2019 |
| 2018 | Monique Sirois, Goffstown High School Class of 2018 |
| 2017 | Brendan Dillon, Bedford High School Class of 2017 |
Click Here to see our Social Award Winners