Hot Topics in Sports Medicine - CME: Schedule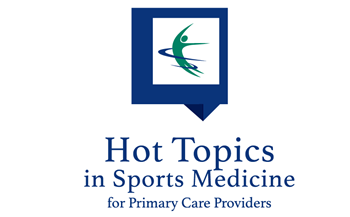 NHMI's Hot Topics in Sports Medicine CME brings sub-specialist expertise to sports medicine topics as they relate to primary care providers. The meeting is scheduled for May 18, 2018, at The Falls Event Center in Manchester, NH.
Use #nhmihottopics on social media!
MEETING FACULTY & SCHEDULE*
Click here to view the Hot Topics Brochure (12,897 KB)
Kathryn Ackerman, MD, MPH – Boston Children's Hospital, Massachusetts General Hospital, MA
Timothy Beaver, MD – Dartmouth-Hitchcock Medical Center, NH
Joseph Bernard, DO – Core Physicians, NH
Brigitte Cook, PT – Foothills Physical Therapy, NH
Christopher Couture, MD – Victory Sports Medicine, NH
Dain LaRoche, PhD, FACSM – University of New Hampshire, NH
Peter Loescher, MD – Sharon Health Center, VT
David McManus, MD – UMass Memorial Health, MA
Erik Swartz, PhD, ATC, FNATA – University of New Hampshire, NH
James Vailas, MD – New Hampshire Orthopaedic Center, NH
Meagan Murphy Wasfy, MD – Massachusetts General Hospital, MA

Friday May 18, 2017

Time

Speaker

Topic

7:25-7:35

James Vailas

Welcome

7:35-8:35

Moderator: Christopher Couture

Concussion in Sport

7:35-7:50

Erik Swartz

An Update on the New Consensus Statement on Concussion in Sport

7:50-8:05

Christopher Couture

Targeting Concussion Management Using Clinical Trajectories

8:05-8:20

Brigitte Cook

Vestibular Rehabilitation Following Sport-Related Concussion

8:20-8:35

Panel Discussion - Q&A

8:35-8:45

Break

8:45-9:45

Moderator: James Vailas

Sports Medicine Considerations Across the Aging Spectrum

8:45-9:00

Christopher Couture

Youth Sports Specialization and Burnout: Too Much Too Soon vs. Too Little Too Late: Participation Considerations for Youth Athletes

9:00-9:15

James Vailas

Common Musculoskeletal Injuries in Adult Athletes

9:15-9:30

Dain LaRoche

Exercise Prescription for the Aging Athlete: Balancing Performance and Health

9:30-9:45

Panel Discussion - Q&A

9:45-10:10

Break

10:10-11:10

Moderator: Laura Decoster

Sneak Attack: Cardiac Killers in Sports

10:10-10:25

Timothy Beaver

Athlete Screening

10:25-10:40

Meagan Murphy Wasfy

Sports Cardiology: The Athlete's Heart

10:40-10:55

David McManus

Exercise-Induced Atrial Fibrillation

10:55-11:10

Panel Discussion - Q&A

11:10-11:20

Break

11:20-12:20

Moderator: Christopher Couture

Current Issues in Sports Medicine

11:20-11:35

Joseph Bernard

The Role of the Pre-participation Physical Evaluation (PPE): Clearance or Exclusion from Sports Participation?

11:35-11:50

Peter Loescher

Regenerative Medicine: Miracle Cure or Snake Oil?

11:50-12:05

Kathryn Ackerman

Enhancing Bone Health and Minimizing Injury – Exercise and Nutrition Tips for the Young Athlete

12:05-12:20

Panel Discussion - Q&A

12:20-12:30

James Vailas

Closing Remarks
*We reserve the right to make changes to the meeting faculty and/or schedule.