Rotations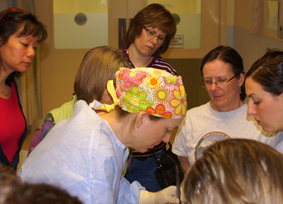 Residents participate in a series of rotations that range in length from one day to two weeks; these rotations are the foundation of the didactic aspect of the residency. The subject areas have been chosen because they represent areas certified athletic trainers will encounter in their practice. The length of rotations is related to how frequently certified athletic trainers are likely to deal with a specific condition. Some rotations are only indirectly related -- for example, residents spend a week in the radiology department at one of the local hospitals. Although athletic trainers will not be administering or interpreting diagnostic imaging, they may certainly be in the position of explaining a test to an athlete. The non-orthopedic rotations provide primary care or general medical education and experience.
Primary Care and General Medical Rotations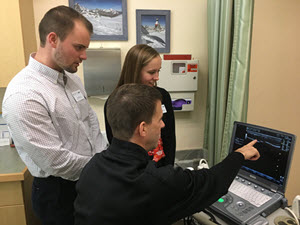 The NHMI Athletic Training Residency ensures participants receive a primary care/general medical-focused experience. Residents follow two primary care preceptors during the year. They each spend six weeks in this setting. They observe during office hours and occasionally on hospital rounds. Neurology, Neurosurgery, Ophthalmology and Dermatology rotations also put the residents in physician offices. Residents will observe Ear, Nose and Throat clinical and surgical cases with Dr. Jeff Byer. Residents learn a significant amount of eye anatomy and see several Ophthalmology surgical cases during the rotation with various Ophthalmologists. During the Dermatology rotation, Dr. Robert Posnick will teach the Residents to recognize skin lesions that should be referred to a physician and Dr. Maureen Hughes offers the opportunity to see clinical neurology in practice.
Concord Hospital provides twenty-four hour a day emergency care services to Concord and surrounding areas. As a reflection of its size and depth of resources, Concord Hospital is designated by the state of New Hampshire as a Level II facility and is the only recognized trauma center in the Concord area. Residents spend shifts with several different physician and physician-assistant providers in this setting.
Surgery Rotations: General and Cardiac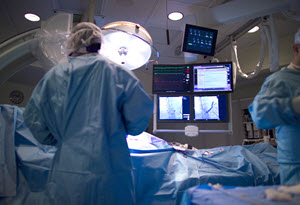 General and cardiac surgery rotations take place at Catholic Medical Center, one of two major hospitals in Manchester, New Hampshire. CMC provides inpatient and outpatient specialty care services including cardiac, thoracic, vascular, spine, orthopedic, general, urology/urodynamics, gynecology, plastics, ear, nose and throat, neurosurgery, podiatry and oral surgery. CMC also has The da Vinci™ Intuitive Surgical Robotics System; watching da Vinci™ cases is always a highlight of this rotation. The New England Heart Institute (NEHI) at Catholic Medical Center is a nationally recognized center of excellence in cardiac care.
Residents observe a significant volume of orthopedic surgery during rotations with orthopedic faculty. The major requirement for general surgery observation is that the cases not be orthopedic. As such, most general surgery observation is abdominal and is an outstanding anatomy review. Cadaveric dissection is one thing, but seeing living, "breathing" guts is something entirely different. And seeing an open-heart surgery procedure is just cool!
Orthopedic Surgery Rotations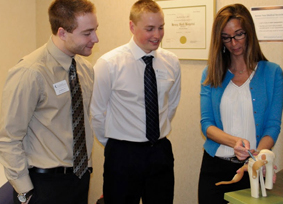 Obviously, a large proportion of the athletic trainer's daily practice is concerned with orthopedic and musculoskeletal issues. Consequently, the residency includes rotations with numerous different orthopedic surgeons and orthopedic physician assistants. Residents are with the orthopedic instructors during both surgical and clinical hours.
Emergency Care Rotations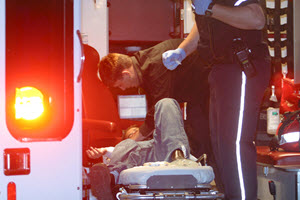 Successful interaction with ambulance and emergency department personnel can make a significant difference in stressful situations. Becoming sensitive to day-to-day emergency medical services operations will help certified athletic trainers understand and work more effectively with emergency personnel. Residents observe patient care in the trauma center (in both adult and pediatric emergency departments) and ride along on ambulance calls.
Manchester's ambulance service provides emergency medical services for the city with 24-hour dedicated paramedic level transport ambulances. In 2017, over 143,600 calls for emergency service were reported in Manchester. Residents spend a week riding with the paramedic service.
Chiropractic and Podiatric Rotations
Residents observe and participate in the chiropractic clinic and spend time with the podiatrist in both clinical and surgical settings.