About our Residency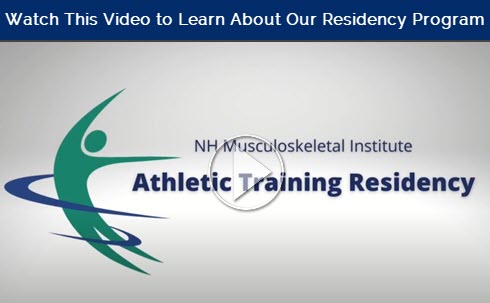 The dates for NHMI's Athletic Training Residency for 2023-2024 are July 24, 2023-July 12, 2024. The Residency is an opportunity for certified athletic trainers (Click Here for eligibility requirements & stipend package) to learn more in one year than they could hope to see in a career. Rotations with physicians and allied health professionals, research experience, and hands-on athletic training experience combine to improve the Residents' fundamental knowledge of human anatomy and physiology, understanding of medical care for various conditions and their ability to interact with physicians. In addition, Residents attend several dissection workshops, two special continuing education events - our Annual Symposium and our Orthopedic Winter Meeting.
Learn More about our Residency by watching this brief video.
At our Annual Symposium each fall, Residents participate in a cadaver dissection and anatomy review session, then attend a full day conference hearing experts relate the latest on topics of interest to sports medicine and rehabilitation professionals. The Winter Meeting gives the Residents a weekend resort experience complete with orthopedic continuing medical education, skiing and socializing with orthopedic surgeons.

Click Here to see a description of a Resident's typical day.
It is the mission of this program to cultivate exemplary healthcare professionals by:
Refining and diversifying clinical ability to detect and manage injuries, illnesses and conditions
Improving understanding and competency in areas that epitomize exemplary health care practice
Fostering confident professional networking through daily interaction with physicians and allied health care providers
Imparting knowledge of, and respect for, scientific research and evidence-based medicine
Engaging in applied research opportunities
Cultivating autonomous critical thinking habits
The Residency includes a monthly stipend and housing in Manchester, New Hampshire, home to the minor league (AA) Toronto Blue Jays affiliate NH Fisher Cats, along with a multitude of restaurants and other activities. Manchester is close to everything -- 1 hour from Boston, Portsmouth and the New Hampshire/Maine seacoast, the beautiful lakes region and White Mountain National Forest.