A Typical Residency Day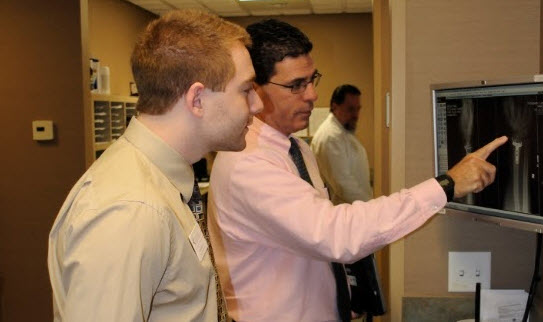 Generally, the residents' rotations take place in the morning hours. For example, during an orthopedics rotation with Dr. Vailas you may spend Tuesday, Thursday and Friday mornings following him through his office hours. On Monday and Wednesday you may observe with him in surgery. In the afternoon hours, you will be at a local high school working as their athletic trainer or covering our Safe Sports Network's free injury evaluation clinic. Two to three days per week, you will spend an hour classroom session with the Residency Director and/or Program Preceptors.
Click Here to apply for the oldest - and first CAATE-Accredited - post-professional Athletic Training program in the nation. Since its inception in 1994, more than 40 certified athletic trainers have participated in this Residency (previously known as Fellowship)
Click Here to see current and past Residents.
Click Here to learn about the history of our Residency program.