Our Scholarship Recipient Update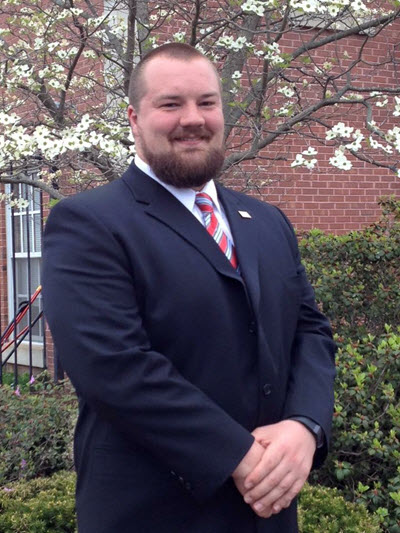 Coming Full Circle: Brandon Hammerstrom Passes the Athletic Training Certification Exam
Brandon Hammerstrom has fulfilled the promise of Mark Letendre's vision. Brandon won the 2011 Letendre Memorial Summer Athletic Training Camp Scholarship as a high school junior. He has just successfully completed his Springfield College Athletic Training Education Program and passed the certification exam. This is exactly what the scholarship's founder had in mind.
Brandon Finishes What He Started in 2011
Brandon was competing with several other applicants for the 2011 scholarship. His essays along with an outstanding recommendation from his biology teacher, Cassandra Thomas, combined to give him the edge over other applicants. Ms. Thomas wrote that Brandon's maturity, politeness and respect for others meant that, "Everyone admires Brandon." She also noted that Brandon is "an amazingly talented student." That along with Brandon's high GPA were considered in the decision because they boded well for his ability to be admitted and complete a challenging athletic training education program
Brandon played multiple sports in high school and was a member of the National Honor Society. He became interested in the field of athletic training after suffering his own injuries. From his application:
While participating in high school sports, I have gained some insight into the field of athletic training and have seen what my school's athletic trainer does for athletes. It interests me very much to be a part of a team making sure that the players are healthy and compete to their fullest potential. Recently I have job shadowed my school's athletic trainer at a few basketball games and learned a lot about the job and what takes place, which interested me very much.
In the summer of 2011, Brandon attended the Springfield College Athletic Training Workshop. Going into the camp, he was not sure athletic training was the answer for him
I still laugh about it today but at the time of camp, I was debating between Athletic Training and aerospace engineering which is quite a big difference... My time at this camp was an amazing experience, from working the cadavers to learn anatomy to learning taping, evaluation, and some other basic skills for athletic training…. After the camp [and some further] job shadowing with a local minor league baseball AT, I was 100% sure that this was the field that I wanted.
Brandon so enjoyed his time at Springfield, he returned to attend their Athletic Training Education Program. He continues to love athletic training. So much so that he's spent the last couple of summers volunteering for that same camp that he attended as a high school student. He even had the opportunity to meet another Letendre Scholarship winner when Kaitlyn McGuire attended the camp.
After Springfield, he received a Masters Degree from the University of Iowa. 2019 UPDATE: Brandon is now working as a Minor League AT with the Toronto Blue Jays organization. Congrats, Brandon!