This is a two step process. You must click the green "add to cart" button to pay the residency application fee AND click the "click here to apply" link above to complete the online application.
The online application must be completed in one sitting. To view the application in its entirety, click the worksheet below.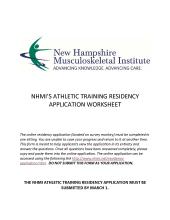 The application deadline is March 1, 2019. Candidate interviews will be conducted in April 2019. If you have questions, please call our office at 603-627-9728.