Free Physicals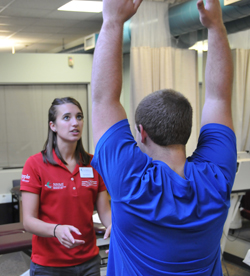 The physical form can be downloaded from this page. IMPORTANT: In some browsers, the form functions - such as the command to print or email the form - will not work.
Please download the form and open with Adobe Reader to solve this problem.
Click here for a 2015 physical form.
Physicals will be held in November at NHOC, 9 Washington Place, Bedford. Check back for date and time.
The Safe Sports Network offers student athletes state-of-the-art sports physicals free of charge. This evaluation includes an extensive look at the athlete's medical history and present physical condition, and several tests to determine if the athlete can safely participate in their sport. Athletes 11 and older are eligible.
Please understand that these physicals are designed specifically for sports participation and they are intended as a supplement to, rather than a substitute for, ongoing health care by a family physician or other specialist. These physicals are not designed to treat or evaluate chronic medical conditions.
If your son or daughter is presently under a physician's care for any chronic medical condition, he or she must receive clearance for sports participation by that physician. Also, you must understand that there are some health conditions which cannot be detected by routine physical. If you have any concerns about your child's health, you should discuss them with your family physician or other specialist.
FAQs
Can a parent accompany their child through the physical?
Absolutely. However, for those who would prefer not to (or whose child would prefer they didn't!), we have a comfortable waiting area. The waiting room is a great place to catch up with friends. To aid the flow of physicals and protect the athletes' privacy, please refrain from extended socializing in the clinic.
Are physicals available on other dates?
No. We are fortunate to have the assistance of these volunteers for this one day only.
Will the physicians complete our physical form (for example, from a school or camp)?
No, we can only complete the Safe Sports Network physical form. The nature of this service doesn't allow us to take time to complete various forms for individuals. The Safe Sports physical forms are kept here as our medical record. The athlete will receive written proof of sports clearance. We work closely with the Manchester and Bedford School Districts and supply them with lists of cleared athletes from each school.
How long is the wait?
Of course, your wait depends on your place in line. We generally complete 75 physicals in 75 to 90 minutes. You can arrive early to be near the head of the line, or arrive a little later to avoid most of the line. BUT don't arrive too late... if there is no one left in line at 6:30 p.m., the doors will be locked.