Fall Symposium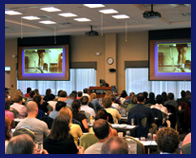 Course Information
Description: Timely, informative clinical updates for physical therapy, athletic training and other musculoskeletal professionals. Six contact hours and 6 Category 1 CME.
Where: SERESC Conference Center, Bedford, NH
When: The 2014 meeting is scheduled for Saturday, September 13.
Time

TENTATIVE

Topics & Speakers
7:00-8:00
SPECIAL SESSION FOR NHMI MEMBERS ONLY: Lumbar Spine Dissection & Anatomy Review: Vladimir Sinkov
8:00-12:00
MORNING SESSION
8:00-8:10
Welcome - James Vailas
8:10-8:50

Update on Spine Surgical Procedures and their Impact on Post-Op Rehab - Vladimir Sinkov

8:50-9:30
Dry Needling - Sue Falsone
9:30-10:10

Non-operative Hip Rehab - Stephen Clark

10:10-10:40
Break
10:40-12:00
Surgery Demonstration: Arthroscopic Knee Anatomy & ACL Graft Harvesting – James Vailas
12:00-1:00
Lunch
1:00-4:00
AFTERNOON SESSION
1:00-1:40

Update on Spine Rehab - Eric Gattie

1:40-2:20
Post-op hip rehab - Stephen Clark
2:20-2:35
Break
2:35-3:15

Supplements & PRP: Finding your way around! - Matthew Gammons

3:15-4:00

The Thoracic Spine: Missing Link to Core Stability - Sue Falsone
*The morning dissection workshop is a special feature available to NHMI members only. Because space is limited to 10 participants, interested members enter a drawing and participation is granted by random selection. Workshop participants pay an additional $25. Please note: Signing up for the drawing and/or paying membership dues does not guarantee participation in the spine dissection workshop.